It's not even the evening yet and the Cubs have already made three trades today! Expect these trades to be the first of many. 
First Trade
---
To start off the day, the Cubs traded RHP Scott Feldman and catcher Steve Clevenger to the Orioles in exchange for RHP Jake Arrieta and relief pitcher Pedro Strop. 
What's in it for the Orioles?
This trade is a great move for the Orioles, who were known to be looking for an additional starting pitcher. Aside from his 7-6 record, Scott Feldman is actually having one of the best seasons of his career. So far this year he has a career low 3.46 ERA and 67 strike outs, which means he's on pace for a career high in strikeouts. 
Feldman's counterpart in the trade, Steve Clevenger has failed to prove himself in the majors. In just 79 big league games he has a horrible batting average of .199, but he's absolutely tearing it up in the minor leagues, which means he's very much capable in putting up similar numbers at the big league level.
What's in it for the Cubs?
Along with Jake Arrieta (pictured above) and Pedro Strop, the Cubs also received an additional $388,100 in international bonus money. Since making his debut with the Orioles in 2010, Arrieta has been sent down and called up numerous times. Like Steve Clevenger, Jake Arrieta has been having a great career in the minors but can't seem to figure it out in the majors. In 77 starts in the minors, he has a promising 3.20 ERA, but those numbers aren't even close to his numbers in the majors, where he has a 20-25 record with a 5.46 ERA. Hopefully the Cubs will be able to turn Arrieta into a successful big league pitcher, but acquiring him was definitely a risk. 
Although he isn't having a good season, Pedro Strop (pictured above) had a great season last year. Like Arrieta, the Cubs took a big risk in acquiring Strop, but considering his great stats in the minors and his 2.44 ERA from last year, he could be a huge asset in the Cubs bullpen in the seasons to come.
Second Trade
---
Not even an hour after the first trade, the Cubs traded recently DFA'd Carlos Marmol (pictured above) to the Dodgers in exchange for recently DFA'd Matt Guerrier and $209,700 in international signing money. Both players are in the last year of their contract and were having horrible seasons before being DFA'd, so the sole purpose of this trade is probably to give each pitcher a change of scenery where they can reestablish themselves.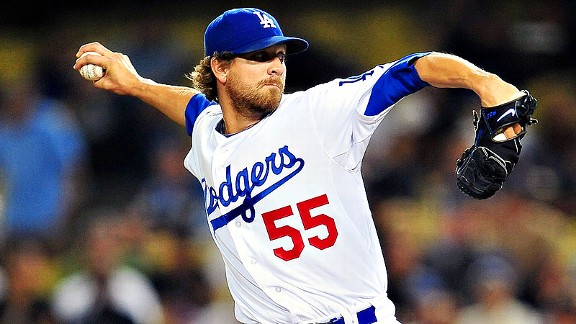 This is a pretty even swap between players, aside from the additional 500K added to the Dodgers payroll this season. Both Matt Guerrier (pictured) and Carlos Marmol have had great success in recent seasons, so if the change of scenery works, this has the potential to be a great trade for both teams
Third Trade
---
To make up for the international bonus pool slot given up to the Dodgers for Matt Guerrier, the Cubs made a third trade in which they gave the Astros Ronald Torreyes (pictured above). In exchange, the Cubs received Astros' second and third international bonus pool slots which equal out to $784,700. In 64 games for the Double-A Smokies this year, minor leaguer Ronald Torreyes had a .260 batting average, while limiting himself to just 15 strikeouts. Because of Jose Altuve, it's unlikely Torreyes will ever get the starting spot at second base, but he will eventually fit in perfectly as the Astros' backup second baseman. 
In Conclusion 
---
These three trades are the first of many by the Cubs this July, so expect other pitchers like Matt Garza and Kevin Gregg, along with position players like Alfonso Soriano to be traded at some point as well.